B2B
Marketing
with franki
across the US
Client: franki
Channels: Facebook & Instagram
Business-to-business marketing with franki, across the USA
California USA. The home of silicon valley, venture capital, ideas and disruptors alike. It's a potent mix of ingredients and the ultimate place for new ideas to find real opportunities.
Enter, franki. Venture capital-backed start-up that is taking on Yelp. In the US, Yelp is a massive entity. It's the 44th most visited website in America with 178 Million monthly active users (MAUs), and a market cap of $2.45 Billion (USD) Yelp is a formidable corporate behemoth, yet here is this small team of highly skilled product managers, marketers and business executives who can see the weak spot from a mile away …video.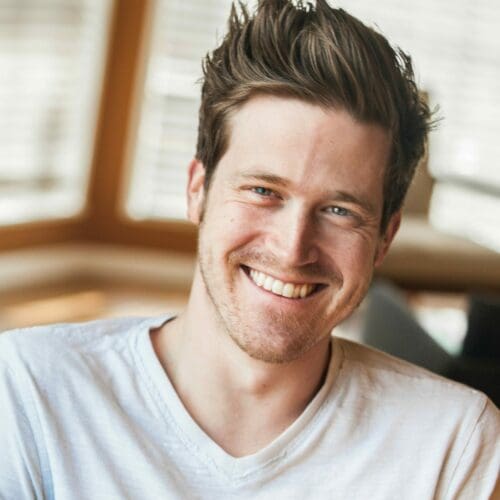 Can't say enough about these guys. We've been working with Stu and his team for a while – utilizing their digital marketing expertise in the B2B space – and their know-how on strategy and execution has been exceptional. It's a pleasure working with them – can't recommend them enough!
Jesse Townes,
Marketing Director
Do to Yelp what TikTok did to Facebook


The move of consumers from text to video has been swift and pronounced.
Here are some stats that will blow your mind about video;
The amount of online video that we're all watching has doubled in the last four years. Doubled.
It now equates to over 100 minutes of video per day on average. That's more screen time with video than we have with Free To Air TV. Last time I checked, FTA TV was still a big business.
The eco-system that supports video marketing has evolved in nearly every market around the world at breakneck speed. Telecommunications coverage has increased, as has the ability for that infrastructure to move data.
The increase from 4G to 5G is significant, and today online videos make up more than 82% of all consumer internet traffic. That's 15 times higher than it was in 2017. Of all data that is pushed through these telcos worldwide, the trend is the same.
and Yelp is no different.


The unique thing about the team at franki, is they absolutely get the power of Video Marketing.
Essentially, franki talks to three different audience segments;
Creators, who will make content / ads on behalf of franki's customers
The general public, who will use franki and view the content that is on their platform to make a decision about where they will go for dinner tonight.
Restaurant Owners, who are the customers of franki. Business owners looking to use franki's powerful video platform to put bums on seats and pack out their restaurant, night after night.
Business-to-Business Marketing


After a competitive pitch process, Remap Online was engaged by the CEO of franki (Eugene Varricchio) to develop their entire business-to-business (B2B) marketing capability – from the ground up. From strategy to content development, right through to campaign execution, data, targeting and measurement, Remap Online has successfully found Restaurant Owners in California and encouraged them to take up this new service and use franki's unique advertising platform.
This was no easy feat. Start-ups move fast, and as their agency, you can't just keep up. You need to help lead the process. That's exactly what Remap Online has done.
Step 1:
we built their
digital and content marketing strategy
using our unique process to define their brand, uncover insights from their target audience (pain points and dreams), and built a structure for their content and marketing initiatives.
Step 2: was all about measurement and conversions. We thought hard about the messaging that the audience needed to hear and the order in which they needed to hear it. We collaborated closely with their product team on website development to build the front end of their marketing site in WordPress, complete with a content strategy, copywriting and SEO initiative through to landing page designs. Weaving intricate conversion points and events through Google Tag Manager and Google Analytics. The ability for us to be able to own a portion of their WordPress environment was critical to understanding the impact of our various campaigns and also (importantly) for their CEO to be able to allocate clear responsibility and accountability to our agency team.
Step 3: was our advertising creative. It's absolutely paramount for any company that is selling itself on its own video capability to demonstrate that it can deliver best-in-class video creative for themselves. It was a high bar to jump and to be honest, we didn't clear it on the first go. But as franki's creator program was able to deliver more original content that we could use in our B2B advertising campaigns, our creative just got better and better (and so did the conversion ratios).
Step 4: was to focus now on the amplification of targeted digital media campaigns into a more sophisticated multichannel environment. Google Search and Google Display campaigns were developed to complement the Social Media Marketing initiatives on LinkedIn, Instagram and Facebook. Target CPA's and CPC benchmarks were established as important milestones within any digital marketing capability that we build for our clients. Significant value was now being realised across web, search and social channels, all working in concert with several campaigns live, and complete full funnel measurement and tracking in place.
Step 5: now we've been asked to develop board reports on performance each month, to highlight the clear (and positive) return on ad spend (ROAS) that our efforts have achieved.
High value, Low Cost Agency Services


Custom Solutions
Business to Business


Facebook & Instagram


Data & Targeting


Google SEO & PPC


Website Design


Web Development


Measurement


Reporting


Creator Marketing


From the ground up we've built an entire B2B digital marketing arm for a new, fast-growing business in California USA.
We've closed the feedback loop and built a sophisticated digital marketing eco-system for franki's unique B2B requirements.
From here, we help to expand beyond California into adjacent markets like Texas. As we optimise and continue to drive down their cost per lead whilst also building their brand through best-in-class creativity, content and commerce.
With Remap Online's head office in Sydney and the USD / AUD exchange rate hovering around 70c. I can tell you the return on the investment that franki's executive team have made with Remap Online as a whole is looking very, very competitive against US-based Growth Agencies.
These results prove that in 2022, via Zoom, Australian-based digital marketing agencies like Remap Online can deliver high-value marketing services and real-world results, at a fraction of the cost of using US-based agency teams.
Given that Remap Online is also an Official Meta Business Partner – shows there's no loss in our Client's ability to access world-leading I.P, insights and tactical deployment, regardless of where their business is located.
Our team here in Australia has loved every minute of our business-to-business marketing efforts, taking franki across the USA, and I'm sure the team would love to help you too.
Stu Stevens – Managing Director at Remap Online
(+ our condolences to Yelp).
Remap Online Marketing Agency