Building Online
Communities
in Web3 with
Video Marketing
Client: Emanate
Channels: Meta, Twitter & TikTok
Building online communities with video marketing in Web3 with Music Streaming.
In this case study you'll learn how Remap Online helped a Music Streaming company to build its online communities across Facebook, Instagram, TikTok and Twitter. Increasing their total audience by 143% over 4 months.
Video marketing was a core pillar in this strategy, and our creative team increased the brand's total video views by 183% across all channels in the same period.
But before we begin to unpack how we achieved this great
video marketing
result,
you need to understand the industry and context of this particular client. 
Here's a quick overview of today's Music Streaming industry for the uninitiated; 
The best place to start is to understand that "Web3" is a worldwide ideology that spruiks a shared vision for the future of the internet. 

That vision is grounded in the concept of 'Decentralised and Autonomous Organisations' (or DAO'S).

How things are traded uses blockchain technologies. 

And one of the vehicles for those trades are 'Non Fungible Tokens' or NFT's. 
If you want to learn more about all of that, here's an article that explains
NFTs and what they mean for Australian businesses. 
Otherwise, please read on because the numbers that we put on the board for this client using video marketing through social media channels were absolutely stellar.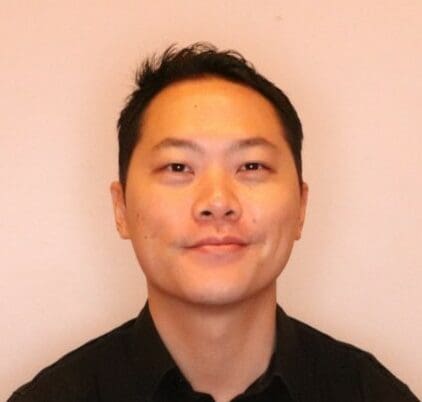 Absolute professionals! Stu and his team were able to quickly grasp our strategy and turn the concepts into stunning content. They took our feedback and pivot where needed, even going above and beyond to assist in advising on technical issues. Our work together delivered a sharp increases in engagements on our socials and drove traffic to our website. Highly recommended!
Peter Yu,
Marketing Director - Emanate
Web3, NFTs and Music Streaming


Founders Sean Gardener, Jimi Frew and Trent Shaw knew they were witnessing a special moment in time back in 2017. They were watching the collision of the music industry with the world's next generation of technologies (Web3), and they could see where it was going to end up.
This evolution would fundamentally change how musicians and artists sell their work and get paid for it. 
They could see artists like Snoop Dogg, Steve Aoki and Tory Lanez releasing exclusive music NFT collections, using the blockchain to contain and sell their work … and make millions. 
So they created a company called Emanate. 
Web3


Emanate is a music technology platform established on the Ethereum blockchain that offers music artists and audiences a special place for collaboration. 
Importantly, what they've created provides an instant and transparent way for the participants of that ecosystem to transact with each other (through NFT's). 
Musicians and audiences alike are growing and collaborating using blockchain technology, trading with NFTs, and aligning with Web3 idealogy (as a decentralised autonomous organisation).
Releasing music as an NFT collection or token offers unique perks and functionality, as opposed to a traditional streaming release. 
A common perk may be to offer verifiable exclusive ownership of a piece of digital art (like an image or music track) or allow the artist to offer bonus utilities that create an unparalleled experience for fans and listeners.
It's music streaming, but not as you know it. 
It's more interactive and lends itself to online events and associated digital experiences. 
That gives marketing folk like us a lot of opportunities. 
In just a few short years, Emanate's business has grown in leaps and bounds and now has offices in several parts of the world, headquarters in Sydney, a user experience team in Portugal, and even a presence in Puerto Rico, among other countries.
Build Healthy Online Communities


As a business, Emanate has grown fast. But to realise their potential, they needed to solidify their online presence and cement their role amongst their user base. 
Enter Marketing Director Peter Yu, a Web3 marketing specialist with global experience. 
His brief to us: build highly engaged online communities through social media channels. 
These communities need to be grounded, established, fast-growing and global. 
From TikTok to Twitter to Instagram and Facebook, we needed to create online experiences with the Emanate brand that was immersive and engaging. 
Follower counts across each channel would be the metric by which we would be judged, along with their level of engagement, to ensure that we were attracting future customers of the brand and not just a bunch of robots or irrelevant audiences.
Additionally, it was clear that we needed to ensure that we would deliver a consistent brand experience across every channel that aligned with their existing design guidelines, look/feel and colour palette. 
The above brief sounds challenging enough; however, the backdrop for it made things even trickier. The markets of cryptocurrency, NFT and music were volatile, which would, in turn, create fast-changing communications environments.
It was early 2022, and the world was coming out of Covid-19. Economic change was on the horizon with inflation and interest rates, so we knew we needed to position Emanate for longevity and success in the best and worst of market conditions.
The risk was that Emanate could be seen as a tool for speculative crypto investments. Instead, it had to be about the music, and the fans, to develop engaged and resilient online communities that would one day become customers.
Strategy, Creative, Distribution and Measurement


Research and Strategy
The first step for us was to understand and analyse the specific audience groups that the brand needed to service. 
We crafted our content strategy to target three specific audiences and built avatars to help us understand and correctly capture all 3 simultaneously: 
The crypto enthusiast

The musician/creator 

The listener 
We knew video marketing would be the most powerful tool in our arsenal for two main reasons; 
Because it has the greatest ability to create an emotional connection which in turn drives user behaviour. 

Because it is the most shareable form of content, giving your media dollar an extra kick.
In a recent study (Wyzol 2021), 84% of people were convinced to buy a product or service based on the brand's video. Additionally, video was found to be twice as shareable as any other form of content. 
But in order for us to harness the power of video marketing for this brand, we first needed to create an emotional connection. That meant we had to understand our target audiences more deeply and learn what they were seeking from the Emanate brand.
Emanate's streaming platform and user experience already engaged these three audiences and they have an active presence on the social media site Discord. 
We used Discord as a place where we could pay close attention to how these audience groups were engaging and conversing with each other in an online environment. We then used that information to guide our video marketing campaigns. 
The insights that we gained from that research piece were that the audiences were all about utility. It was the functionality of Emanate's user experience that is unique to Web3 and music streaming that is of interest to them. 
Promoting the app's utility, and creating and marketing online events, as a means by which we could attract new users into this ecosystem was the central part of our social media marketing strategy for Emanate. 
Creative Development
Now that we had defined our target audience groups, researched and understood their wants and needs, and gained significant insights, we could now develop the assets that we're going to need to use in our campaigns. 
In order to meet the needs of a multichannel marketing campaign, we had to create video assets in all possible formats. 
From landscape to square to full frame vertical for TikTok and Instagram Reels. Anyone who's worked with video marketing and creative development knows that it's a real challenge to have a single piece of content work brilliantly across all of those screen sizes and nuanced channels. 
Here are some examples of the creative we developed for our video marketing campaigns.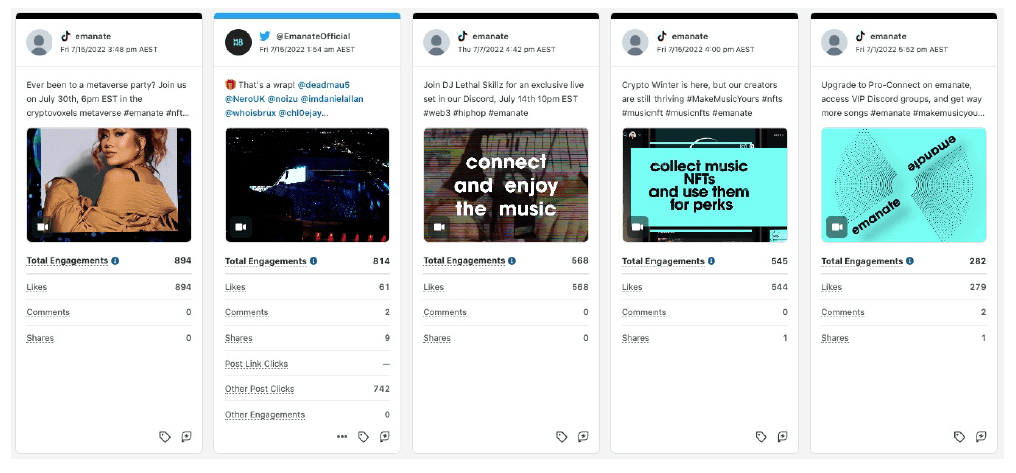 Distribution and Campaign Management
In order to change user behaviour, you need to have a sustained approach. To do this through social media means you can't just make one video and run it as a campaign for several weeks. The nature of social media marketing generally means that all creative has a shelf life. The specifics of these audience groups meant that they are highly sensitive to creativity which decreases the shelf life of each video asset. Long story short, we had to build a process by which we could create video after video, week in and week out, in order to get the right results.
Our deep experience with Twitter, plus being an Official Meta Business Partner and TikTok Agency Partner, meant that we were well-equipped to use the latest data and targeting techniques when setting up these campaigns to build the follower counts of each social media channel. 
Reporting back to the client weekly via our regular Work In Progress (WIP) Zoom meeting, we were able to unpack the insights of each campaign each week and then use that information to guide the creative development of the next groups of video assets.
Closing the feedback loop on this video marketing process is critical to ensuring that your video marketing platform just gets better and better and better. 
This was a key component that drove some of the stellar results we achieved for this client. 

Reporting and Measurement 
Real numbers. Real results. Over three months, we saw remarkable results and substantial growth across all platforms and channels for Emanate.
Video Marketing is one of the most valuable and instrumental tools you can use in today's social media-mad world. Its ability to create an emotional connection between your brand and your audience is fundamental in changing user behaviour. 
When you combine that type of creative prowess with social media's pinpoint data and targeting capabilities, you end up with a very powerful set of tools that you can deploy to future-proof your business. 

Wrapping Up
There's a very good reason why we talked about our client's business so much in the first half of this case study … because we want to show you how important it is that we take the time to get to know our client's business like it was our own. 
Understanding our client's business, inside and out, is just so important because it provides the insights that power up your entire marketing strategy, and its this same process of understanding the business context that allows you to tie your marketing strategy (and its measurable results) back to a real-world business benefit. 
Without that level of understanding in place, no digital marketing agency can ever really move the needle on their client's future success.
For Emanate, they now have a sound foundation that they can continue to build on with streamlined processes for content creation and distribution.
Transforming Emanate's online presence and engagement through the power of video, messaging, and advertising was deeply rewarding for our team. It was a pleasure to work with such an exciting brand who have big plans for its artists and users in the world of music and the ever-expanding metaverse.
This is definitely a project to keep your eye on; follow Emanate on Instagram here. 
Remap Online Marketing Agency